I'm not a young guy, but even at age 64, I still love mountain biking. Of course, you don't have to be young to enjoy mountain biking. During my time on trails in Florida, I have seen a lot of guys who made me look like a spring chicken. At Alafia River State Park, Mitch, well into his 70s, was grabbing a few feet of air as he launched off ramps rated for expert riders. I'm not that bold, and if I grab air, it definitely was not intended. Let's just say I prefer to stay grounded. 
Like many mountain bikers, I ride because it allows me to connect with nature and it puts me in a good mental state. Mountain biking is not only my therapy but also my prosthetic. Bone-on-bone in my right knee makes long-distance hikes less pleasurable than they used to be, but on the bike, I can go for hours with no pain whatsoever.
Problem is that in Western North Carolina, where I live, it takes some courage to bundle up for rides on days when the temps refuse to budge above 40. That's when I "Boldt" for more southerly climes. A lot of people wouldn't think of Florida as a great mountain-bike destination, but you'd be surprised by how many choice spots you can find there.
This page is a work in progress listing some of the best campgrounds to set up basecamp that also have great mountain biking in the Sunshine State. I'll begin with one I just completed, near Ocala, Florida, the wonderful Santos trail system.
1. Santos Biking Trails
The trails at Santos offer some of the best mountain biking in Florida, period. My first van camping trip at Santos was just before Christmas of 2021. Situated in Ocala, Santos Campground serves as a great basecamp for your biking adventures, whether you're looking to get out on the more than 80 miles of single track here, or pedal on paved greenway for miles before connecting to another favorite, Ross Prairie Campground.
The Marjorie Harris Carr Greenway, which runs right through Santos, was originally slated to be the Cross Florida Barge Canal, but Harris Carr and other activists opposed the 200-mile channel, arguing that it would cut off wildlife on either side. Two sections of the canal were built but because of the opposition, the project was abandoned. That was a blessing for those residing in and visiting Central Florida. Today, the Greenway is a 110-mile linear park with more than 300 miles of trails of all types.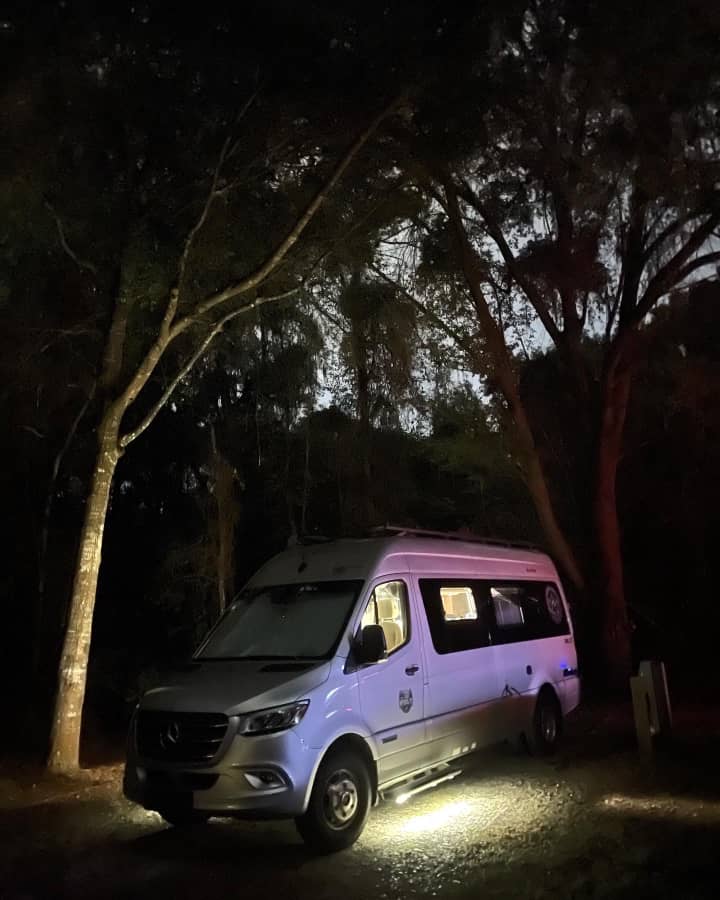 On my first day, I pedaled the Greenway to the Land Bridge, which crosses I-75 and allows for wildlife to cross. The Florida State Parks website notes that black bear use the corridor. Really? I've not seen a black bear in Florida, but yes, they're probably here.
From nearby Ross Prairie Campground, I had pedaled to the Land Bridge from the west, so this was just a way for me to complete what I had left undone. I cycled back on single-track, notching about 17 miles for a couple of hours of soul-reviving riding.
Whether you're a beginner rider, an advanced one, or something in between, you're sure to find trails that give you a challenge that's not too hard or too easy. Santos makes the experience convenient by color-coding their trails, including yellow for the easiest ones, blue for the intermediate ones, and red for the hardest of them all.
The more advanced trails can lead you into two mining pits that have long since been abandoned. From sharp turns and exhilarating drops to unstable terrain, these more difficult trails are now a mountain biker's dream come true.
You'll be glad to know that the whole of Santos includes well over 80,000 acres for you to have a blast with your mountain biking equipment. The acreage spans from the famous St. John's River to the Gulf of Mexico.
While stretching your legs within a radius of 110 miles, you'll also have the opportunity to enjoy the diverse flora and fauna. From anhingas and white ibises to passion flowers and coral honeysuckle, you likely be pulling our your phone for photos along the way.
Since there are so many trails to explore and challenge yourself with, you'll definitely get the most out of Santos if you stay for a few days or longer. Don't worry about getting lost either, because there are always plenty of helpful locals who can show you the way. But be sure to download the Trailforks app for excellent maps of the trail system.
If you run into trouble with your bike or need supplies, head to the Santos Bike Shop for quick and high-quality repairs. They also give you the option of renting bikes.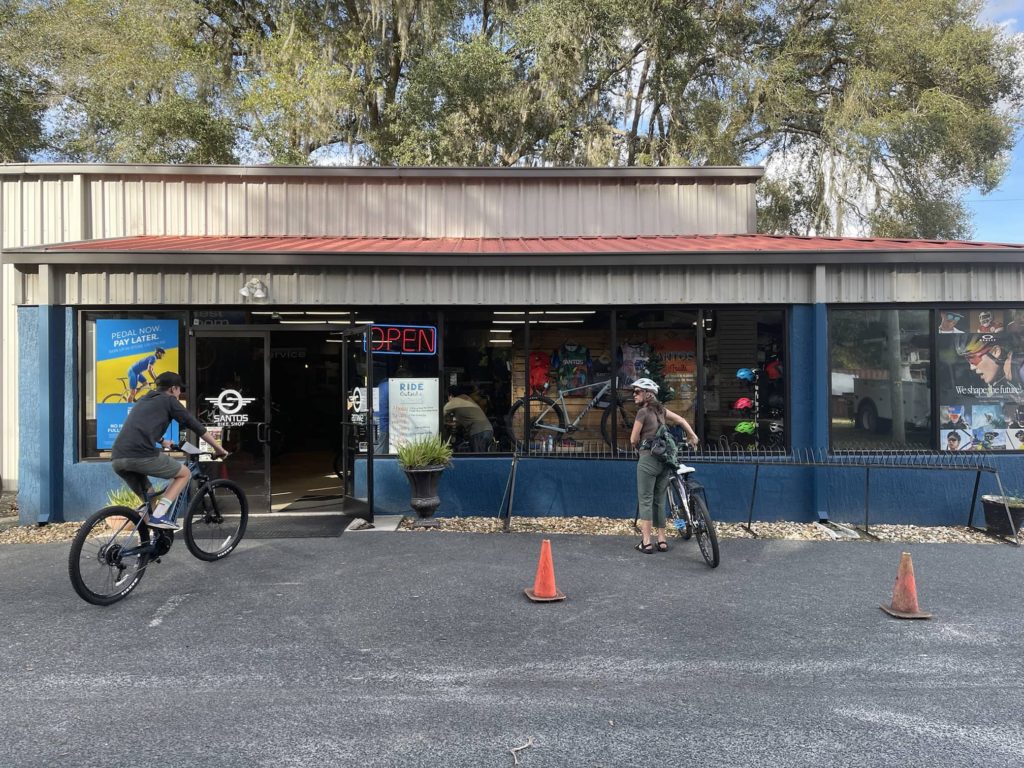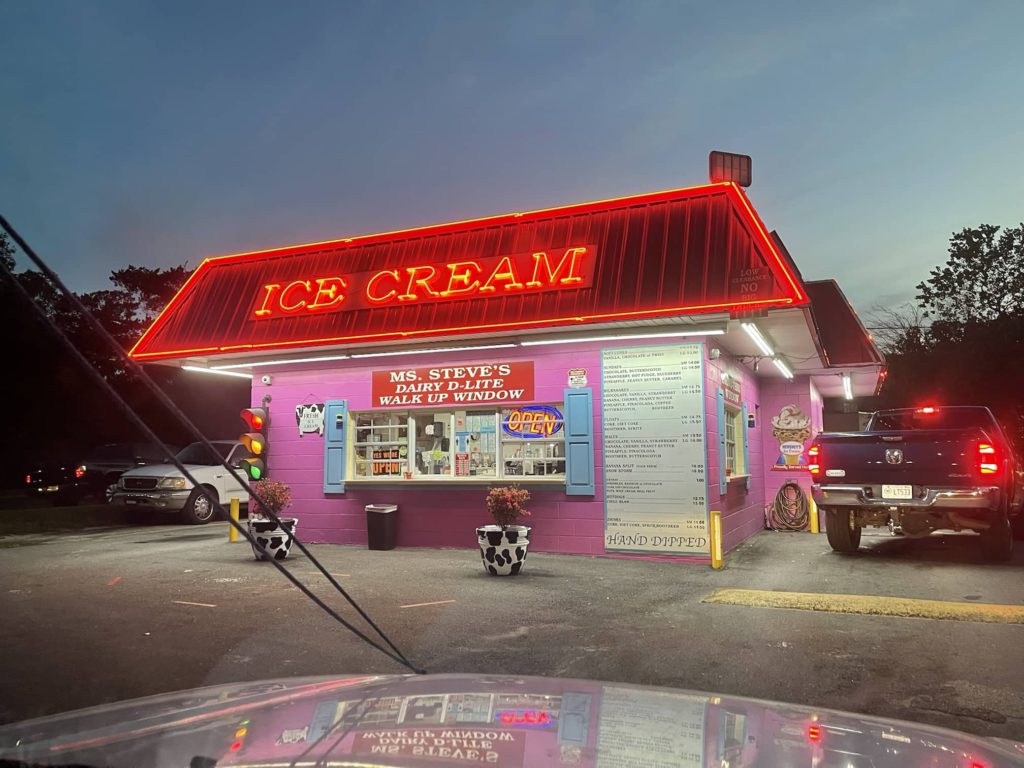 2. Fort Clinch State Park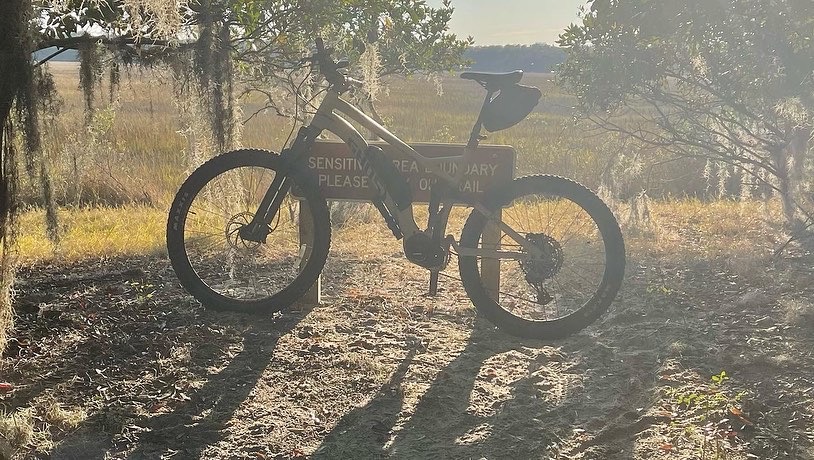 From my basecamp in Asheville, North Carolina, Fort Clinch State Park is 6.5-hour drive, making it the most easily accessed Florida beach destination for my bike and Boldt. The campground is so poplar that it is often difficult to find space for even one night, but if you plan well and you have your finger poised while logged on to FloridaStateParks.org, you might just get lucky.
Pro Tip: You can book up to 11 months in advance, so if you're wanting space in February, begin looking in March, and do so early in the morning, before 8 a.m. EST, as many others are also trying to reserve at the same time. Bookings open at 8, so fingers poised!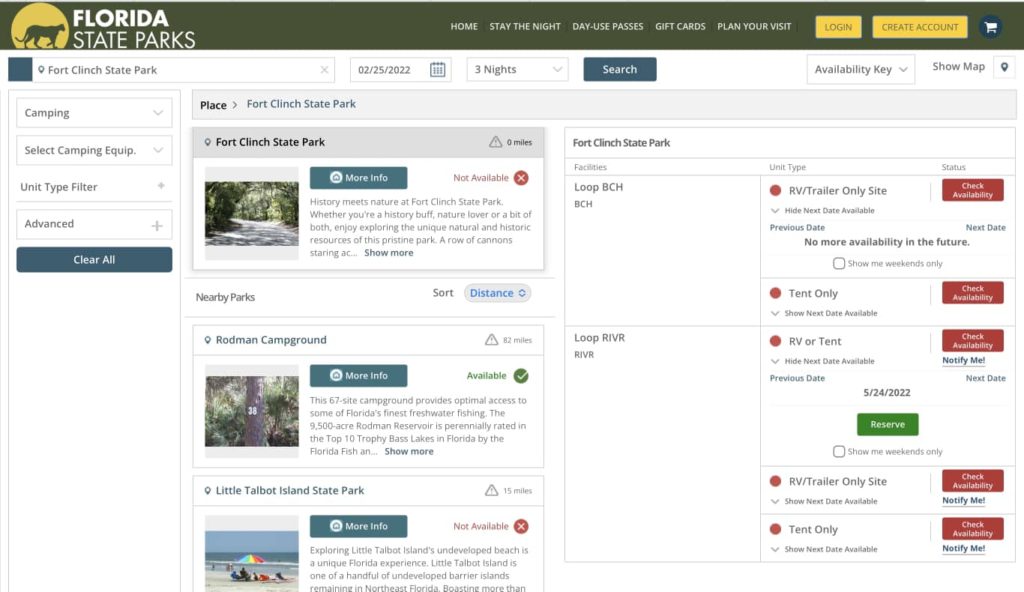 Fort Clinch State Parks ranks as a favorite, if not the favorite, bike destination for several reasons:
There is a fun, six-mile mountain bike loop as well as greenways where you can spend days exploring Amelia Island.
Downtown Fernandina is charming and historic.
Lots of good restaurants and watering holes.
Fort Clinch was an important Civil War fort that has been well preserved and is worth exploring. The Fort Clinch State Park website boasts: "History meets nature at Fort Clinch State Park. Whether you're a history buff, nature lover or a bit of both, enjoy exploring the unique natural and historic resources of this pristine park."
Beaches surround Fort Clinch State Park, with easy access to kayaking or shark tooth hunting. You can even kayak, with a guide if you're not experienced, to Cumberland Island National Seashore.
The park spans 1,400 acres. There are two camping areas in addition to group camping areas. The River Loop is mostly shaded whereas the Beach Loop is exposed the sun, which may be preferable during the winter months. All sites offer electric and water. There are clean bathhouses, with coin-operated washers and dryers. Cell and data service is spotty in some sites. In site 23, for example, T-Mobile and Verizon showed only a single bar or service. Streaming was impossible, and some emails failed to download. We found that setting up our chairs on the beach, just a five-minute walk, gave us good speeds along with great views.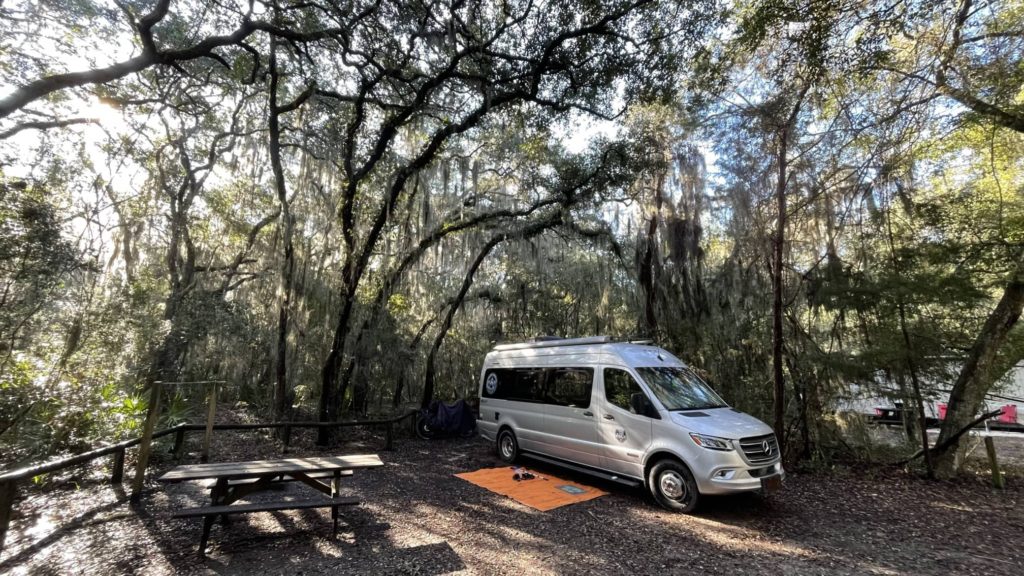 You can pedal both the roads and single-track trails. Of the latter, nearly six miles of single-track are split evenly on each side of the main park road. The trails are one-direction only for mountain bikers and open to hikers, so heads up.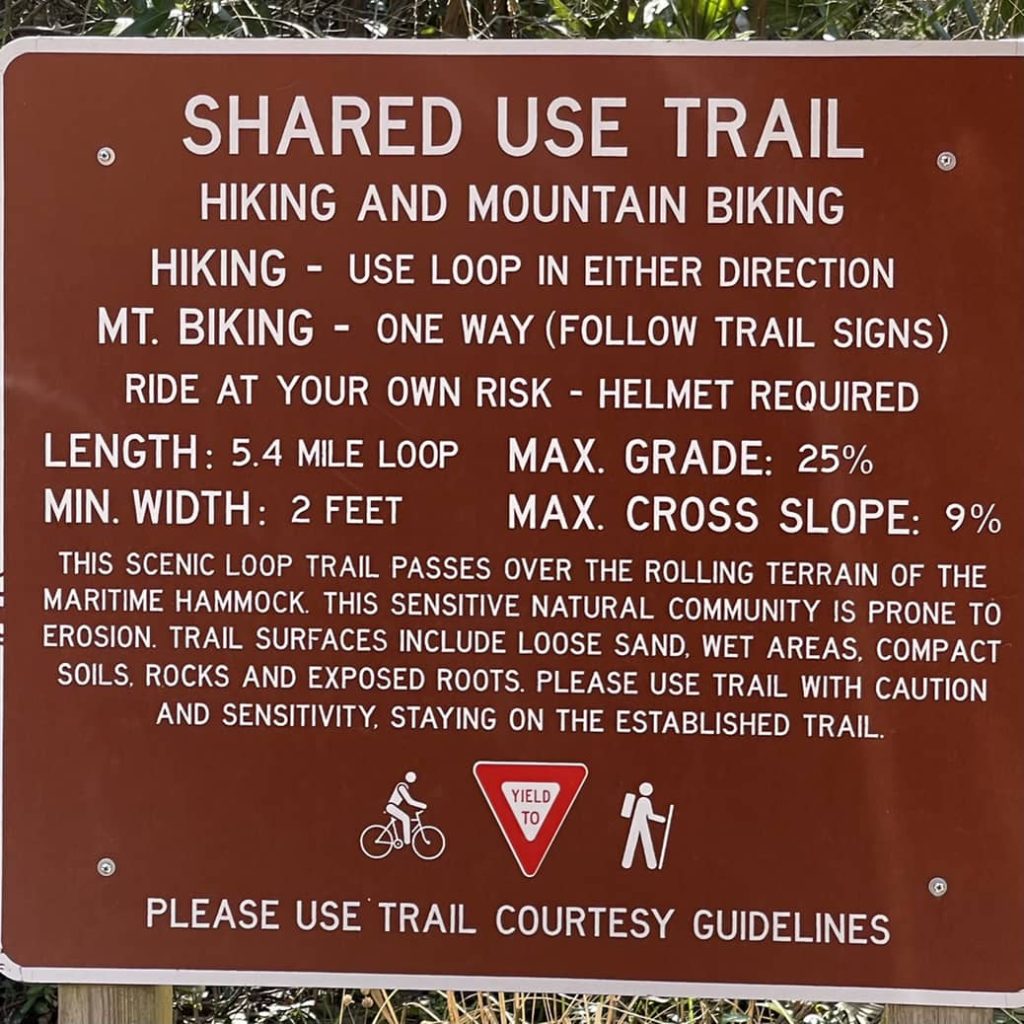 On the main loop, you can expect to encounter hard-packed dunes, some of which are steep. If you want something more relaxing, then you can turn down the intensity by a notch or two and enjoy the main road of the park. Starting at the park's famous fort, you'll be able to get almost 7 miles of exertion going both ways. If you want more, head across A1A to Egans Creek Greenway. The greenway offers only a few miles of riding, but is a nice addition to Fort Clinch's trails.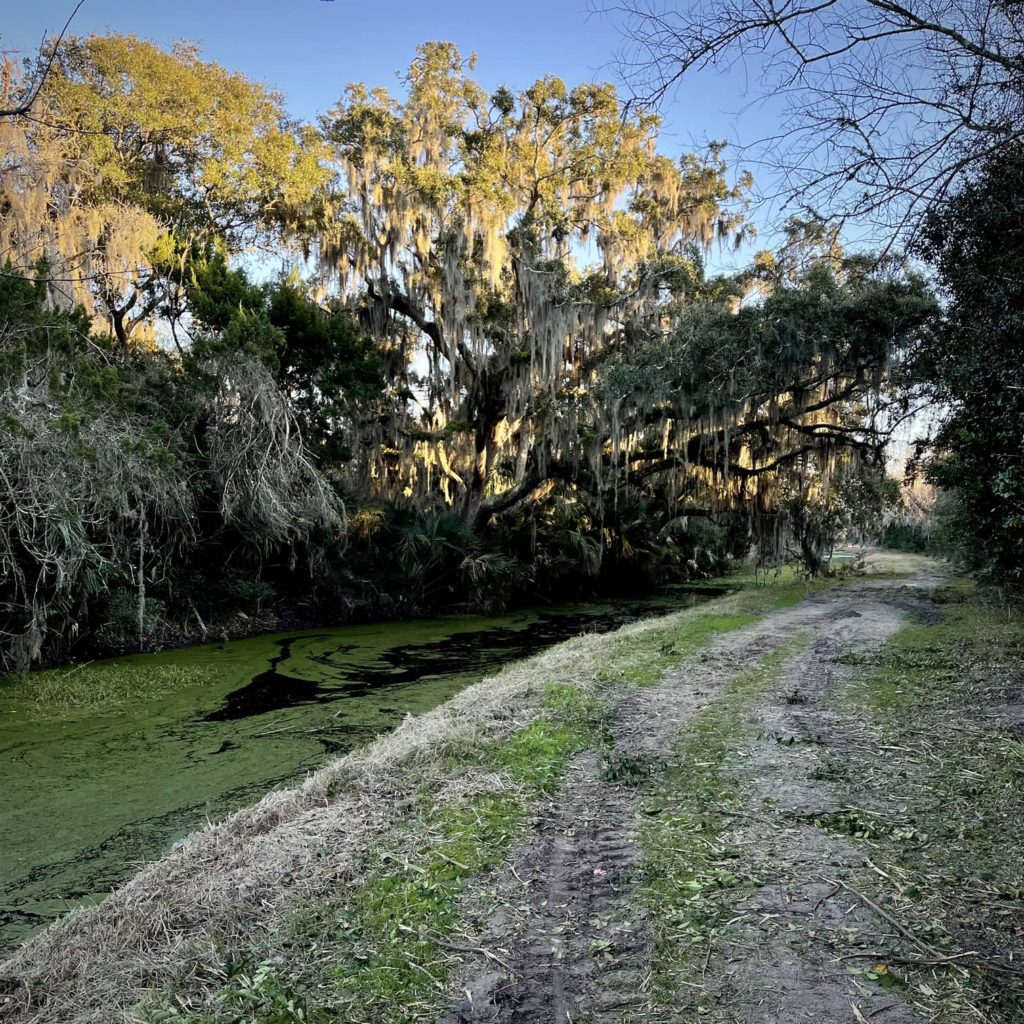 You can bike on the harder sandy areas of the Atlantic shore as long as it's low tide at the time. There's a bike washing station in the parking lot near the Atlantic Beach Campground.
Whether you want to rent a bike or tune-up yours after you've worn it out a bit too much, you can stop by SuperCorsa Cycles for some of the best bike services in the area. The shop is conveniently located on the Amelia Island Bike Trail, which allows you to extend your ride from Fort Clinch and Egans Creek Greenway for a full day of pedaling.
And to replenish those burned calories, head out to Salt Life Foodshack, just around the corner from the Fort Clinch entrance, or better pedal there and have a brew while enjoying views of the Atlantic.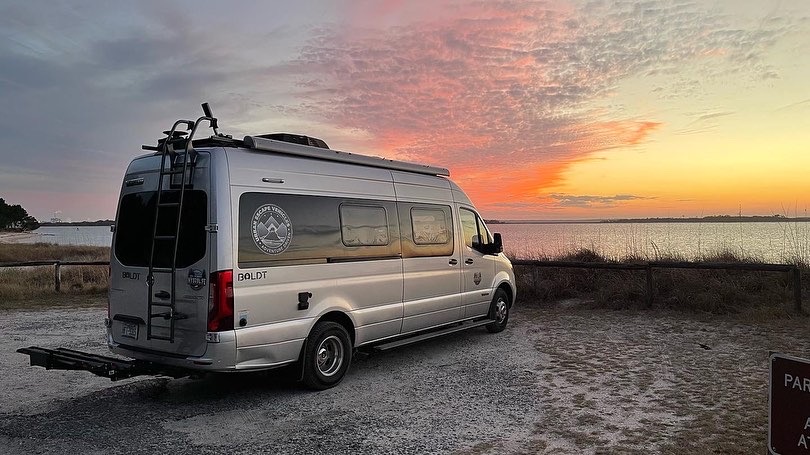 3. Balm Boyette Scrub Preserve
Whether you want to go winter mountain biking or not, few locations can beat Tampa's awesome biking park. This cycling wonderland was created by SWAMP, which is a mounting biking enthusiast coalition in the local area. The Balm Boyette Scrub Preserve consists of an epic 25-mile single-track and a double-track of about a dozen miles. This double-track is often used as a way to make it between the single-tracks.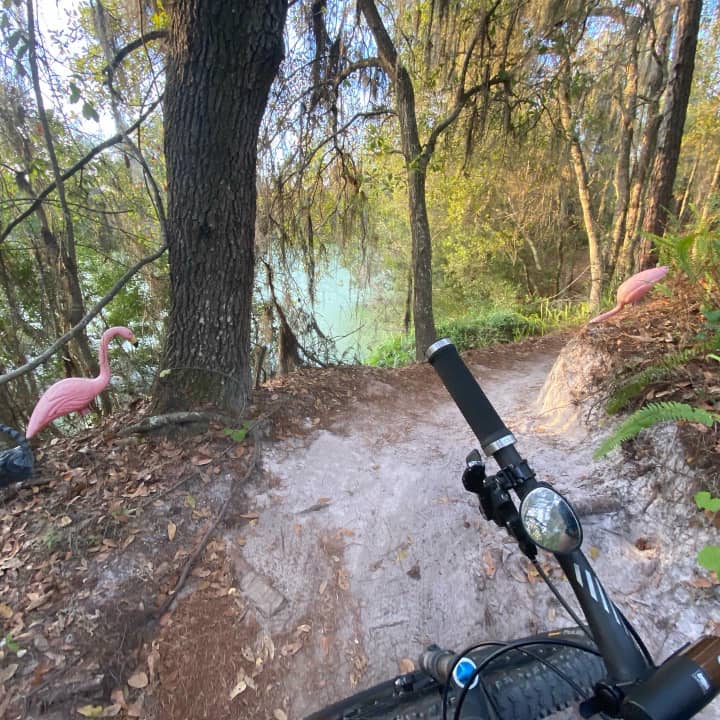 Once you park your camper van, you'll need to make it about a couple of miles into the preserve before you can start on the grand single-track. In general, the park allows you to spread your wings across nearly 5,000 acres of beautiful Floridian scrubland. As you explore, you're sure to come across a wonderful handful of refreshing lakes.
Like the other courses, you'll find a nice variety of both easy and difficult trails to try out. There's even a Ridgeline Trail of over 2 miles that is noteworthy because it's not like most other trails you'd find in the Sunshine State. What makes it so unique is the combination of smooth descents with sharp, banked turns.
That trail has been around for over a decade and is well-maintained so you don't have to worry about pesky roots or dangerous rocks. This can allow you to speed through it like a cheetah if you're up for the challenge. In fact, you can even take advantage of some drops that allow you to go as fast as 30 miles per hour or even faster.
If you're in the area and need reliable service pronto, then you can have peace of mind when you bring your bike to the University Bicycle Center. From repair and maintenance to tempting tuneup packages, they'll serve all your needs while you conquer Tampa's biking park.
4. O'Leno State Park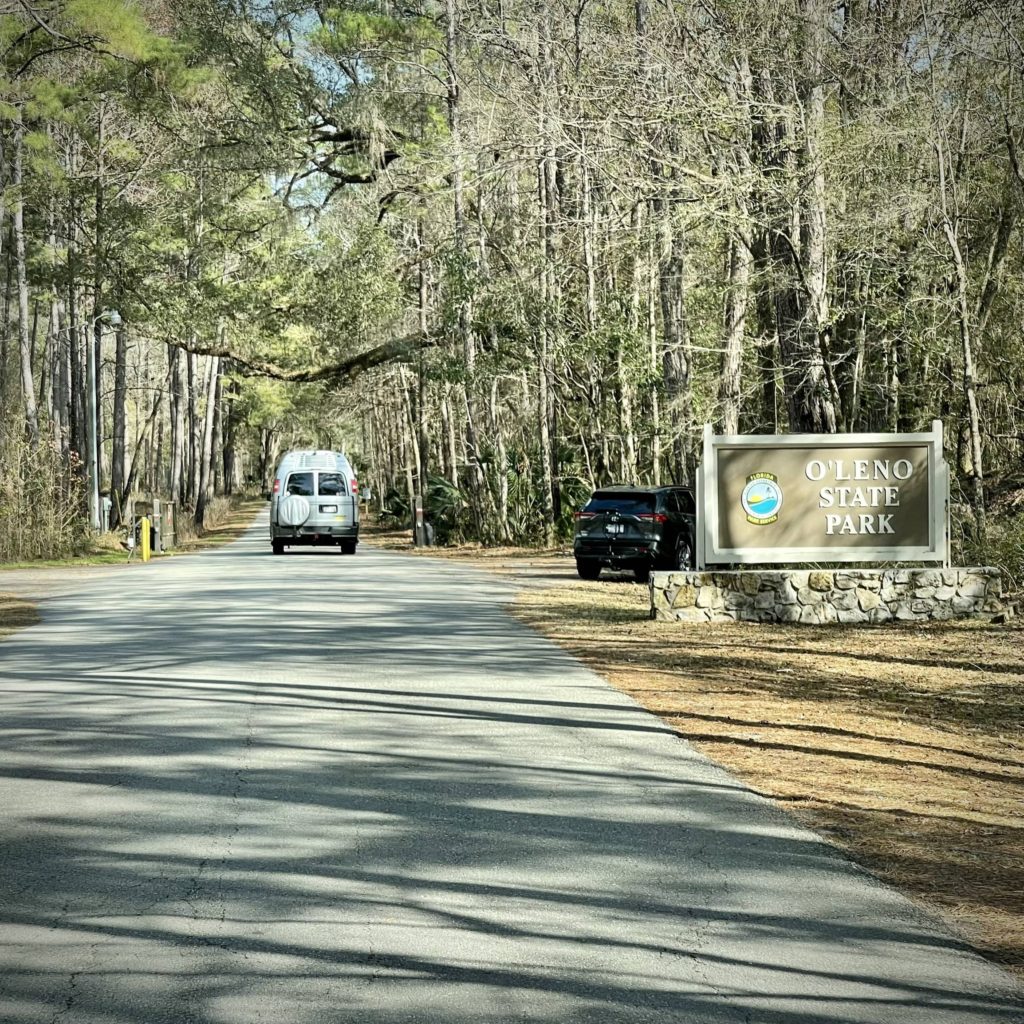 Not the greatest state park for mountain bikers but worth a stop, at least for one night. Hold up. After writing that first sentence, I spent another night at O'Leno State Park and discovered an additional 34.8 miles of trails at the adjoining River Rise Preserve State Park.Together, these two state parks offer more than 40 miles of riding, most of it in forest roads through varying terrain comprised of sugar sand and pine needle beds. It's relatively easy to crank out the miles here.
I parked the Boldt in site 19 on Magnolia Loop, a large site with electric and water, and clean bathhouses nearby. I needed the WeBoost for decent data on my iPad using T-Mobile, but once connected, data worked well.
It was not easy to book a site at O'Leno State Park. That's because the Florida State Park's search engine does not recognize O'Leno as an option. Instead, I googled O'Leno and found my way in through the back door more or less. I later learned that typing in Gainesville would return O'Leno State Park, among others in the area.
Once I had set up camp, I enjoyed an evening ride, only seven miles along wide trails and tricky sugar sand. Lots of pine trees and palmetto shrubs, with algae covered ponds along the way. Heightening the atmosphere was the Santa Fe River where there's even a trail (for hikers not bikers) that runs alongside the river sink.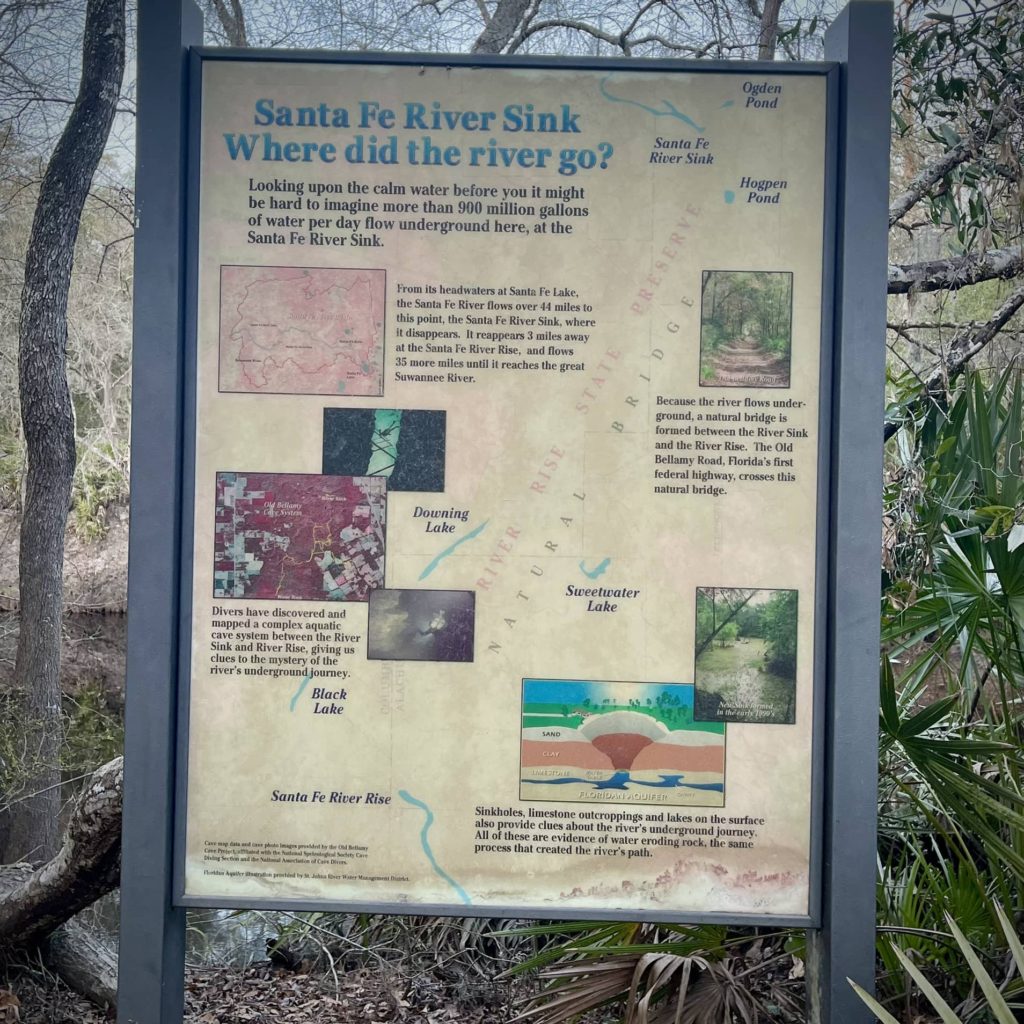 There's a viewing platform where you can see that the river goes underground and then comes up again. In this case, the river sink is about 3 miles long.
Calculating the total length of the single-track and double-track, O'Leno State Park offers almost 15 miles of trails, but note that some trails are for hikers only.
Also of interest is the history of the old town of Leno and structures built by the Civilian Conservation Corps during the 1930s.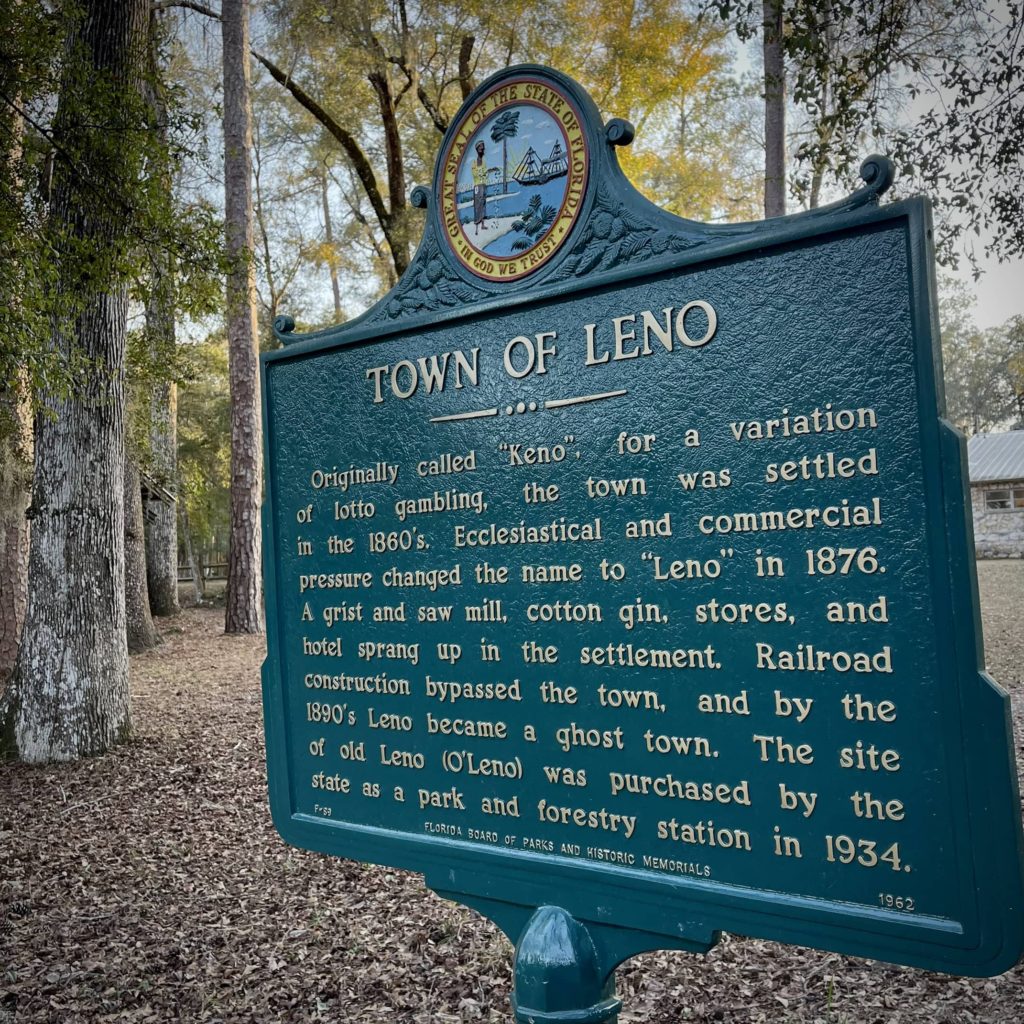 On the second day, I discovered lots more to ride when I entered River Rise Preserve State Park.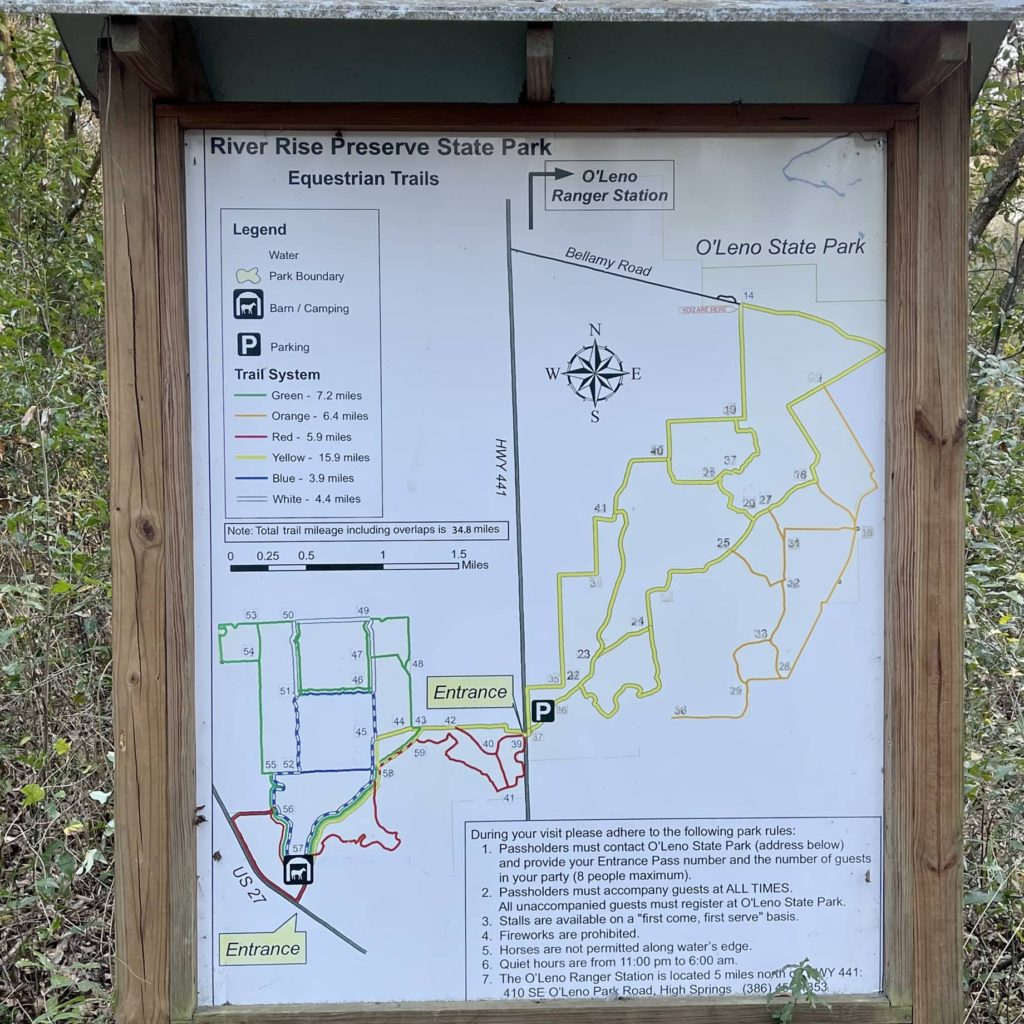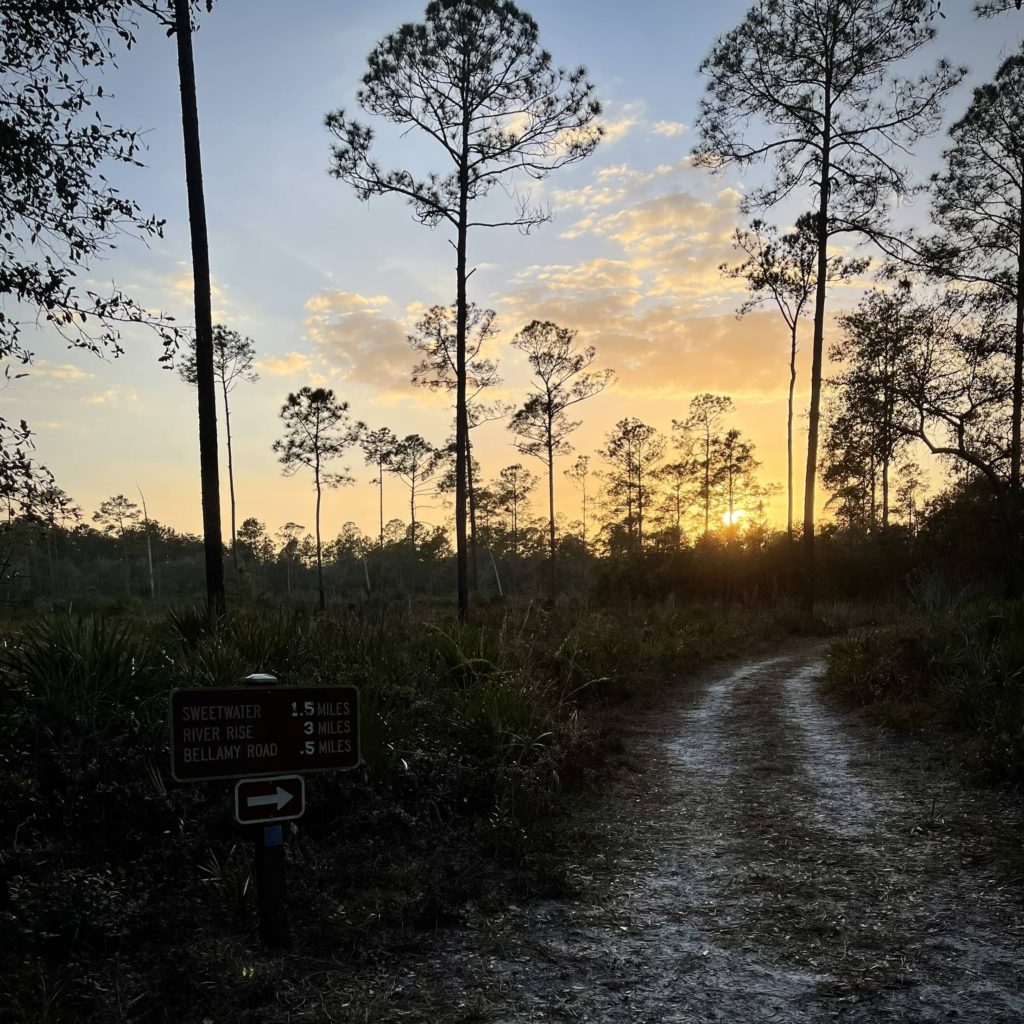 Once I rolled back into O'Leno, I was amazed by the flood levels marker by the Santa Fe river. 1964 and 2017 saw the highest water levels. It was hard to imagine such a significant rise of the river.
At first glance, O'Leno State Park did not appear to offer much. But with its interesting history, natural features and miles of trails, I have to agree with the words of a couple from Missouri who I met at the park, "We don't know how we missed this one." I don't either. I'll be back to O'Leno State Park, for sure.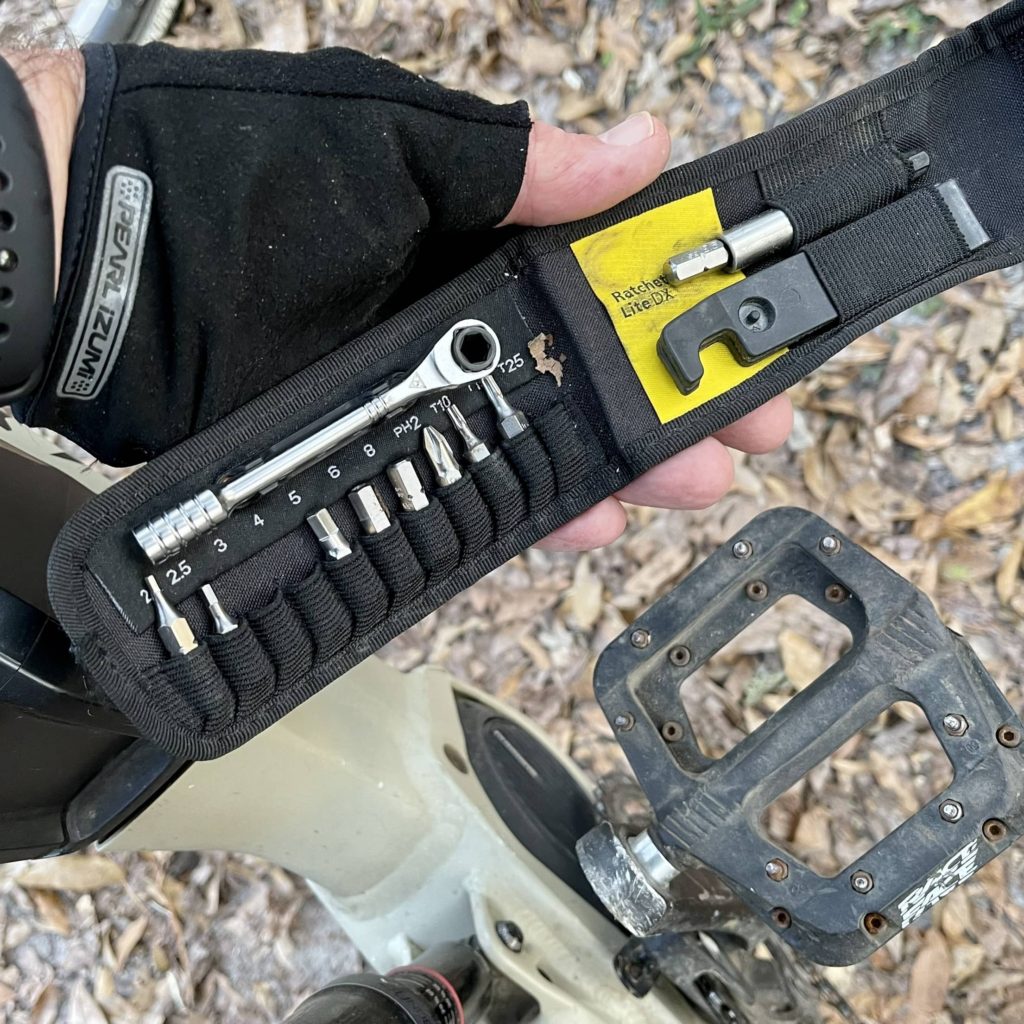 Trailforks suggested that I head next to San Felasco State Park for miles of mountain bike trails. No campground there, though, so I'll load up tomorrow and head 12 miles in the direction of Gainesville.
5. San Felasco Hammock Preserve State Park
Going to O'Leno State Park is a great way to kill two birds with one stone because it's only 12 miles from San Felasco Hammock Preserve State Park. While there's plenty of trails for beginners here, this park also has some of the more difficult trails in the state.
In fact, when I arrived a couple of guys about my age asked me if I had ice in my van. One of them had suffered nasty blows to the elbow and knee, having slipped on a root. Later, an elderly gentleman asked if I was headed out on my bike. "These are trails for the iron man," he said.
Coming from Western North Carolina, I found the trails at San Felasco to be rather tame. Sure, there were roots and ruts and a few uphill pushes, but nothing compared to what we experience daily in WNC.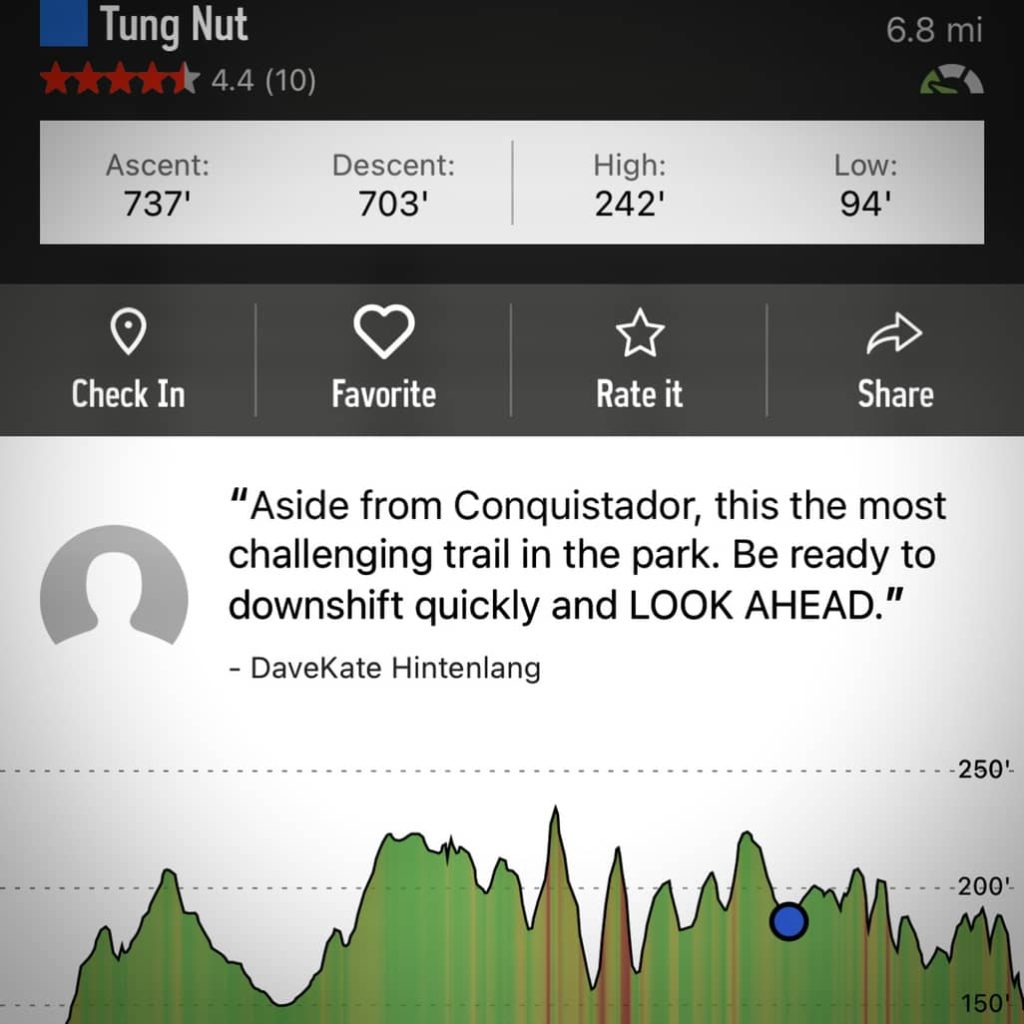 I heard that if you need a bike shop, the Super Cool Bike Shop is a trusty place for all your cycling needs when you're at this state park or the neighboring one. Depending on your exact location, you could even try the Santa Fe Bicycle Outfitters, which also has high ratings from happy customers.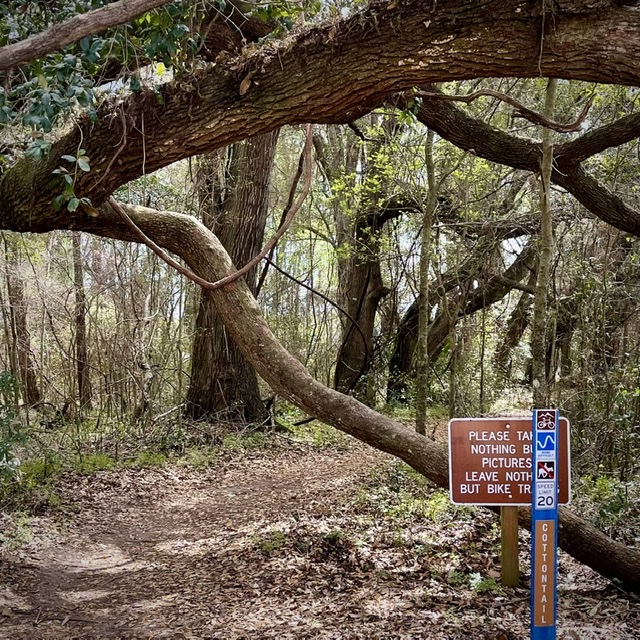 Am I Missing Any Great Rides?
I will continue to update this page as I explore more of Florida. The goal is to help Class B owners like me find campsites where they can get in a few good rides.
You can help. Leave a comment below to share your knowledge about other great mountain-bike trails in the Sunshine State.