For the past couple of days, I've been testing Specialized's Turbo Levo Comp. It's a pedal-assist, full-suspension mountain bike. It seemed appropriate to have a Lithium-powered mountain bike with my Lithium-powered van: #bikeandboldt, right?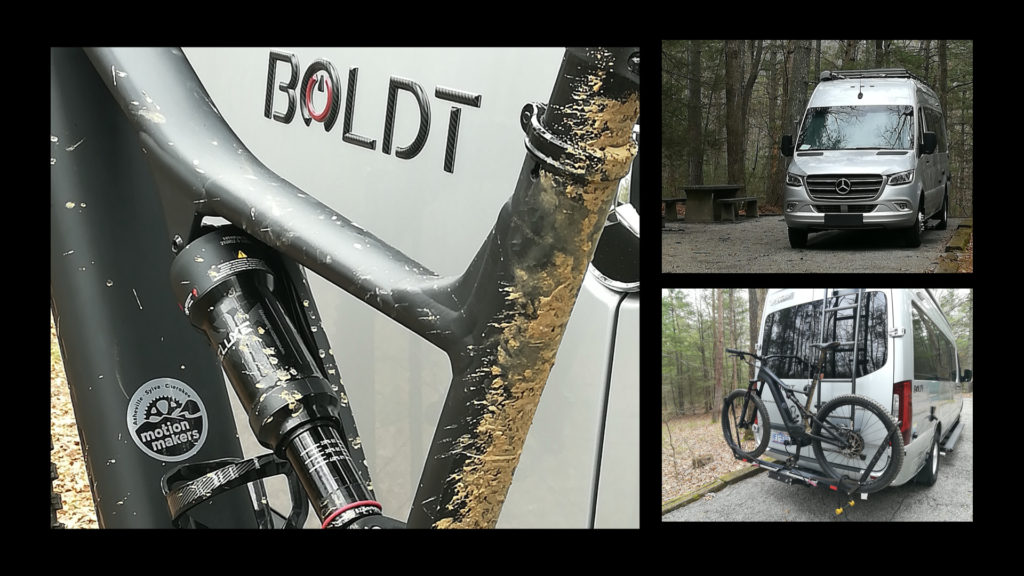 Spoiler alert: I love the ride on the bike, although it did have a few problems that I'll discuss in a moment. Before getting into the problems, however, I'd like to address an issue raised among my friends, and, in fact, one that I am struggling with. Do I need pedal-assist? After all, I'm the guy who cycled across America, up the West Coast, across Canada, both of New Zealand's islands, the east coast of Australia, and nearly all of Europe. I even moved to Copenhagen, and later Sweden, to be in a bike-friendly culture – you know, countries where rednecks aren't throwing beer cans at road riders. That actually never happened to me, but any road rider knows what I mean. U.S. drivers, in general, are aggressive, not at all bike-aware or bike-friendly. Worse, for the past decade, they have been distracted by their devices. I quit riding the roads here in the States more than 10 years ago.
Back to the question: Why would I, Mr. Obsessed biker, need pedal-assist? After two days on the Turbo Levo Comp, I can confidently answer: because it is so much fun. It seems that I am getting almost the same workout – meaning that I am hitting all the heart-rate zones recommended for improving fitness. The difference is that with the eMTB I go twice as far.
Yesterday, for example, I left base camp – the Boldt parked at Lake Powhatan Campground in Asheville – pedaled for four steep miles up Bent Creek Road to summit at the Blue Ridge Parkway. I then dropped 5.5 miles down a forest road to Wash Creek and Mills River Campground. My overall elevation gain wasn't huge, 2,282 feet according to Strava, but I did the circuit in 1 hour and 21 minutes. I would never have attempted this ride on my non-pedal-assist Stumpjumper, given the time constraints I had. The eMTB ride was exhilarating.
Yesterday was my second time renting the pedal-assist bike. I'd rented the same bike once before in Cherokee (Motion Makers also has a store there). Cherokee is seeking to appeal to mountain bikers and has built a wonderful series of trails on Fire Mountain.
What I've learned from three days of riding the eMTB is that the pedal-assist gives me confidence to explore. For example, if a bike trail drops downhill, I'm confident that I can go down it and have some assistance getting back up. On my Stumpjumper, I would rarely take the trails less traveled because I just didn't feel I needed the extra exertion.
There is a catch. Pedal-assist bikes are not allowed on the single-track trails here in Bent Creek – and in many forests, in fact. That's okay. There are plenty of forest roads in Western North Carolina. I have a lifetime (what's left of it at age 62) of exploring without leaving the 828 area code. But, upon further investigation, I heard from a friend of mine who volunteers with Southern Off-Road Bicycle Association (SORBA) that eMTBs are not allowed on any roads that are not accessible to cars. That means that those blocked off forest roads are off limits. Unaware of this, I pedaled up one of those blocked off roads yesterday. When I hit the beginning of single track, I did see a sign indicating that eMTBs were prohibited. What confuses me still is why the sign is there if eMTBs aren't supposed to be on the forest road leading up to it. Why wasn't the sign at the gate blocking the forest road. Anyway, my friend says that Forest Service law enforcement officers may soon be issuing citations in many of the areas where I thought I could use the eMTB. So that's a problem.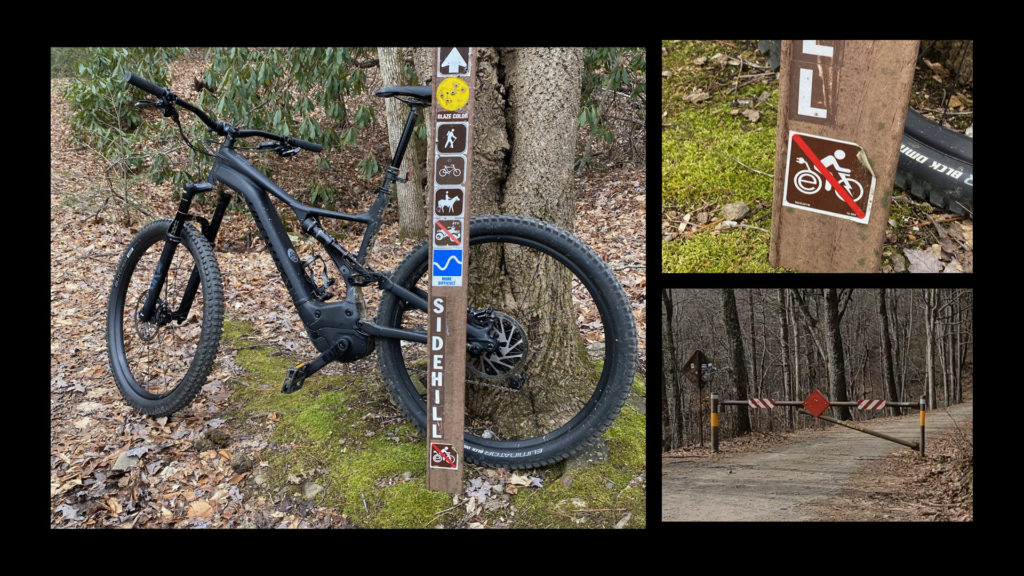 Moreover, there were problems with the bike: It shut off, completely, a few times as I was pedaling. That's no fun when you're riding up a steep grade, and suddenly a 50-pound bike shuts off. Also, it began what I can only describe as "pulsing" at one point. The pedal-assist would kick in while going up hill, then completely stop, leaving me to huff it uphill. It "pulsed" in something like 10-second intervals. It was annoying more than anything. There is a battery charge indicator light that was flashing red and blue, although the battery still was charged at more than half capacity.
The big question is would I pay $6,000 for the pedal-assist bike. It has some very nice features, and paying that much for a mountain-bike is not unthreaded of. I doubt I would pay that much for the eMTB, though, given the restrictions prohibiting where I can ride. If the bike were $5,000, I would consider it. I can see it coming in handy as we travel around in the Boldt., and there are still plenty of roads that I could ride. For now, however, I'm on the fence, or to put it in terms that cyclists can understand, straddling the saddle.
Note: The National Park Service appears to be less stringent than the United States Forest Service about ebike usage. See this link at the National Park Service website and this link at the U.S. Forest Service website.