From our home in Asheville, the trip to the Outer Banks would take seven hours to cover 433 miles. Our destination was Cedar Island, where we'd drive the Boldt on a ferry for a two-plus-hour transit to Ocracoke.
We had originally planned to do this trip in the Travato. In hindsight, we're glad we took the Boldt for at least two reasons: 1) the drive was much more comfortable than it would have been in the Travato, thanks to the Sprinter's roomy cab. And 2) none of our campsites had electric hookups, and running a generator after quiet hours is a no-no. The Boldt's Volta system with its powerful lithium batteries allowed us to keep cool throughout the hot nights during our journey along the Outer Banks.
Our first overnight was in a boat ramp parking lot, adjacent to the ferry terminal at Cedar Island. We couldn't have asked for a better spot to pitch camp. The photos say it all.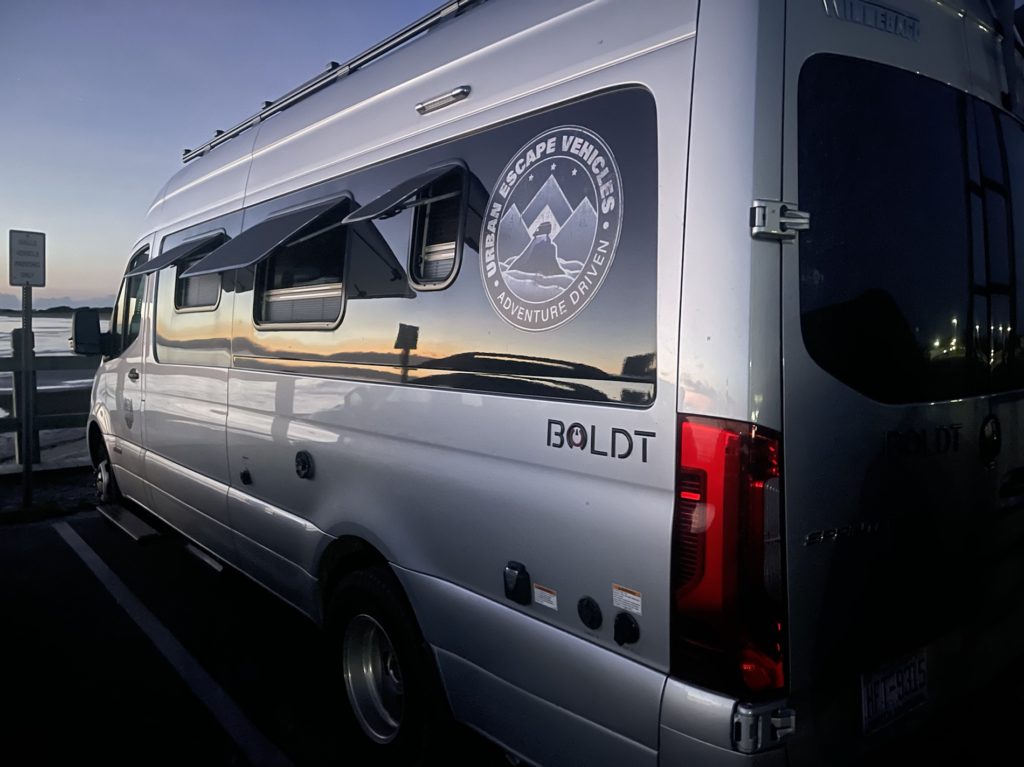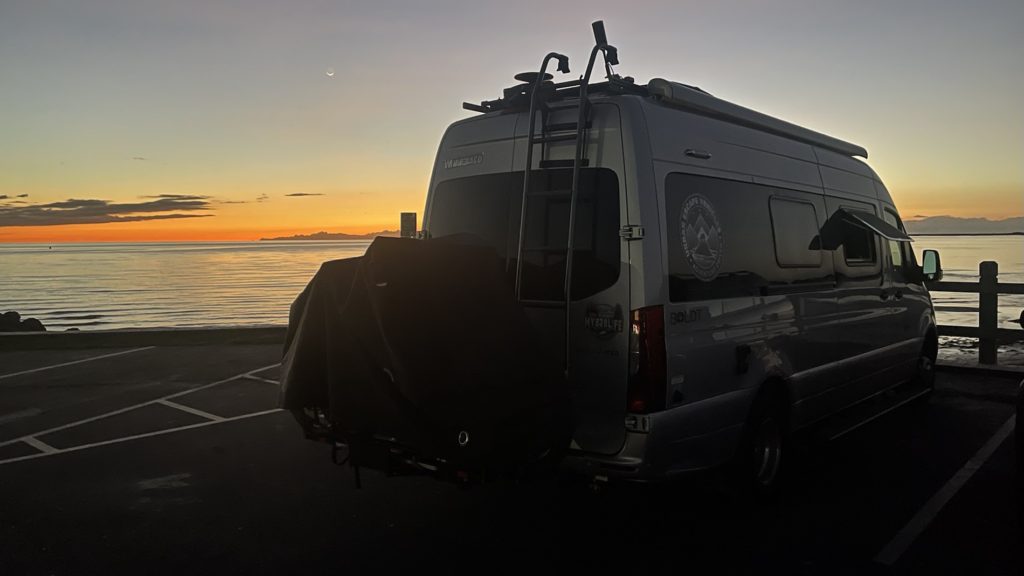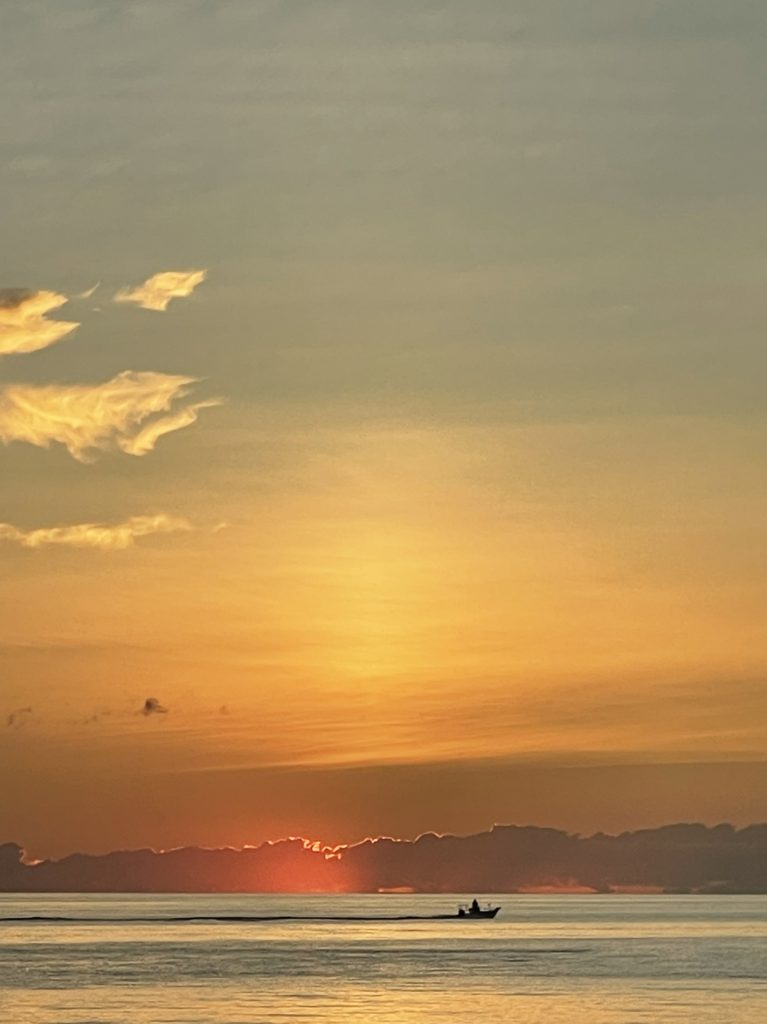 Although our heads did not hit the hay until midnight after we arrived at Cedar Island, we were up for sunrise and ready for an adventurous week ahead.
Tamera wanted to hike portions of North Carolina's Mountains-to-Sea trail, which follows along the Outer Banks. I wanted to cycle as much as possible. First, though, we would need to drive the Boldt onto a ferry for the crossing to Ocracoke. That part was easy, as the ferry workers were great with piloting us on board.
The ferry trip across was an exciting beginning to our adventure. As we neared Ocracoke, dolphins were in every direction we looked, including some that swam along with the ferry as we entered the landing in Silver Lake.
Ocracoke is to the Outer Banks (and North Carolina) what Key West is to Florida. Accessible only by water or small aircraft, the town was home to Native Americans before Europeans arrived in the 1700s. Part of Ocracoke's interesting history is that Edward Teach was killed here. Who was Teach? The infamous Blackbeard the pirate. The National Park Service (most of the Outer Banks is part of the Cape Hatteras National Seashore) does a great job with its interpretation programs. We sat with others outside as a ranger told us the story of Blackbeard's capture and death during battle.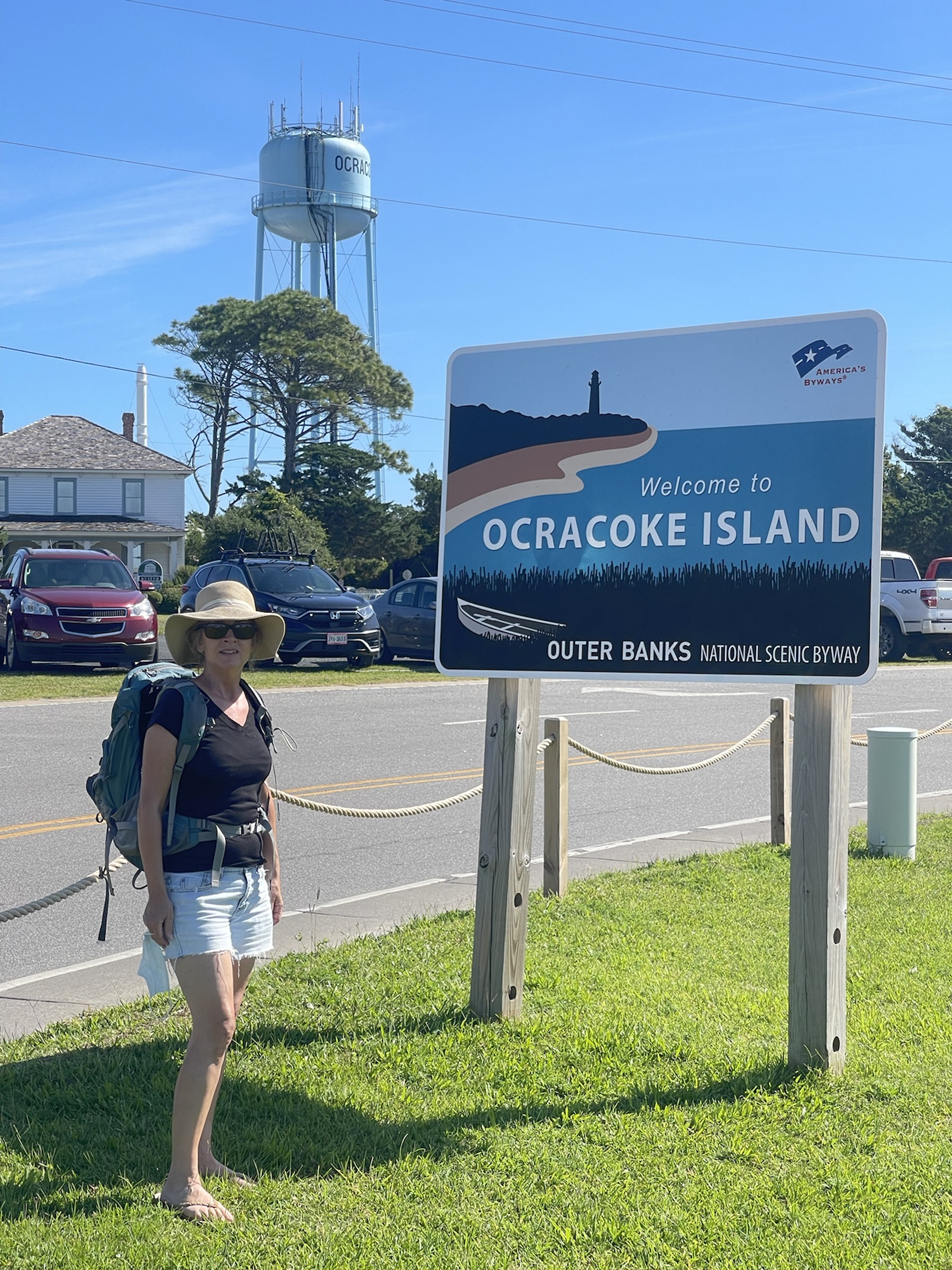 We had two full days in Ocracoke, camping in the National Park Service's Ocracoke Campground. The campground features flush toilets, drinking water, cold showers and grills. There are no electric sites. Glad we had the Volta power-pack, because nights were warm. There is a dump station and fresh water across the street, but note that you will need to use the gravity fill input as the fresh-water hoses have no fittings. We did have cell service on both T-Mobile and Verizon. The Atlantic waters were warm and crystal clear during our visit. We swam and sat in the surf, soaking up the fresh ocean air and sun.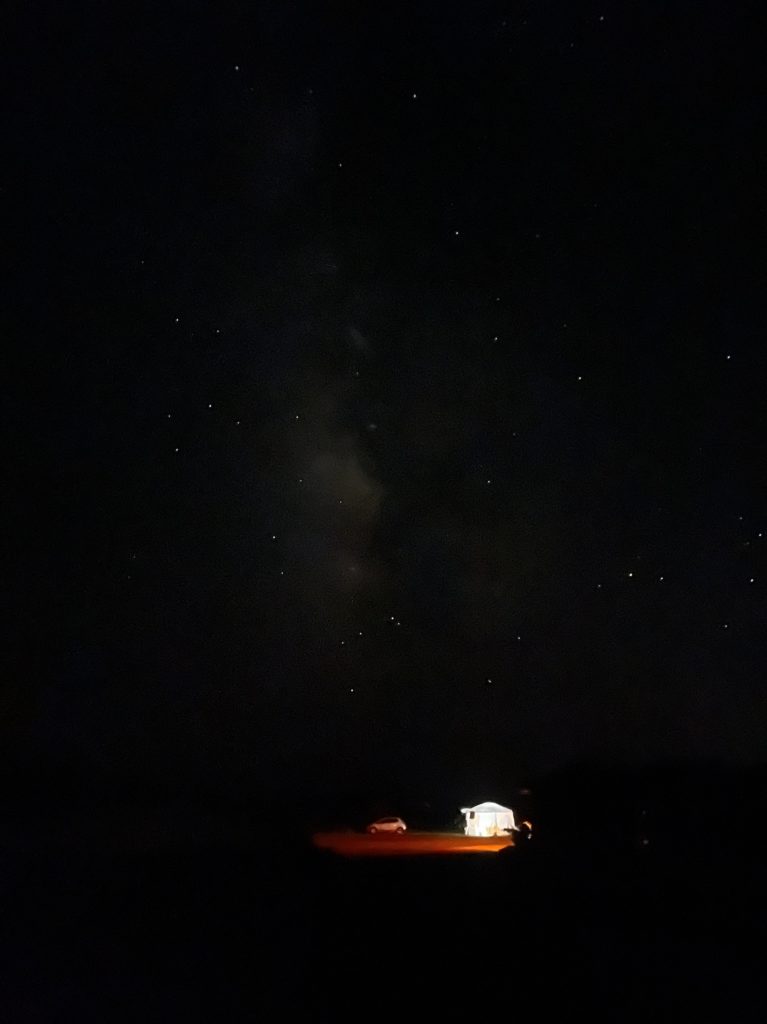 Our next stop required that we take the free ferry off Ocracoke Island, one hour to Hatteras. Again, another beautiful crossing, Had we not arrived in Hatteras late in the day, we would have visited the Graveyard of the Atlantic museum. We made note of it to visit next time we come to the Outer Banks.
We pitched camp at another NPS campground, Frisco. Like Ocracoke, there are no electric campsites at Frisco. There are flush toilets, potable water and unheated showers. Cell service was spotty but worked well once we plugged in our WeBoost.
Two highlights for us at Frisco. The first was an early evening stroll through maritime forests to a long boardwalk that took us to the sea.
The other highlight was a 10-mile round trip bike adventure along the Mountains-to-Sea trail to Cape Hatteras Lighthouse. The pedaling started off easy, along a gravel road, but became buggy and difficult in soft sand. Still, it was a fun adventure. I was glad that I brought along my bug net.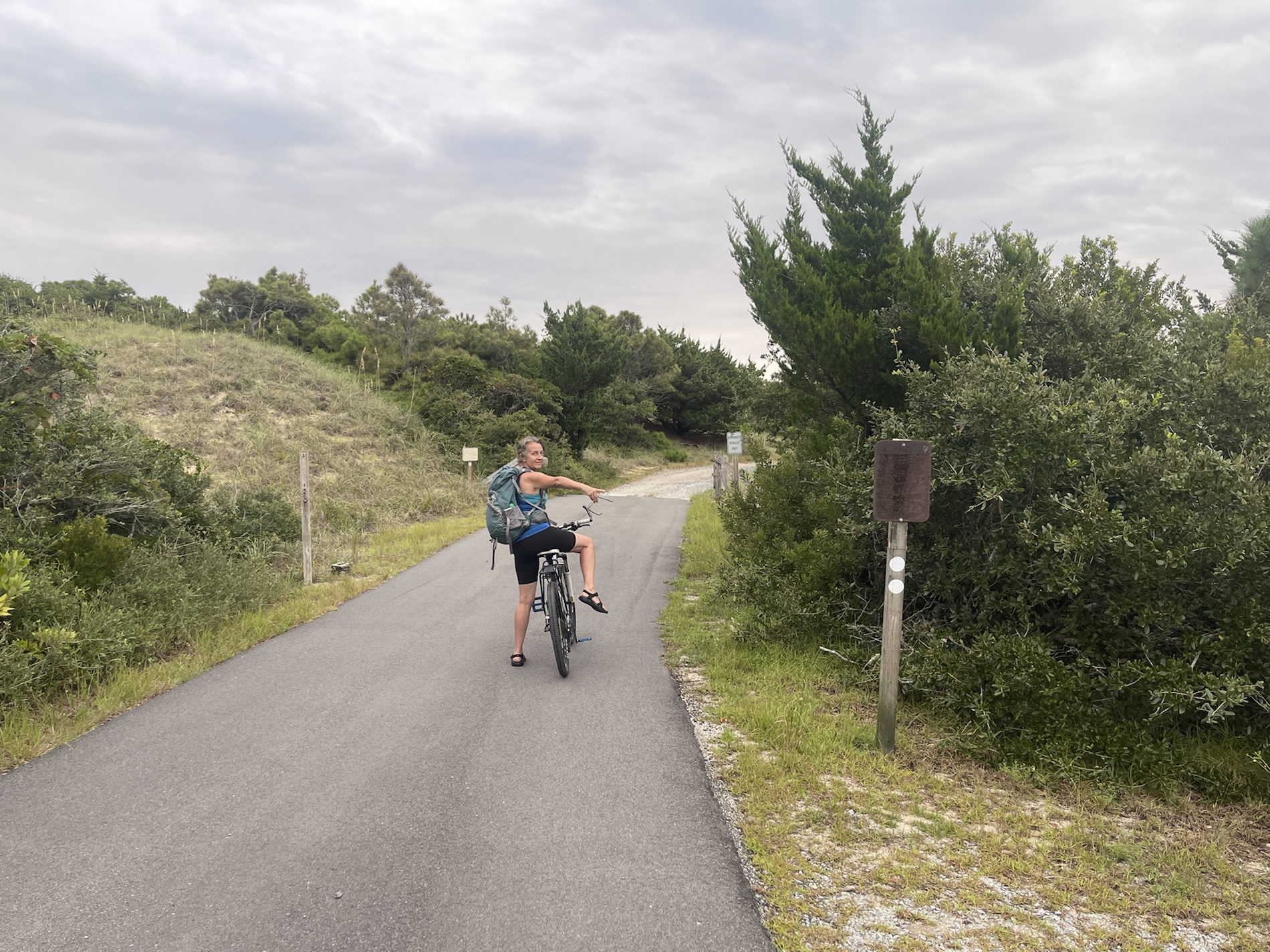 After a night at Frisco, we headed up the coast to our next stop at Oregon Inlet. There are electric sites at the NPS campground, and we probably should have opted for one. The fact that we did not, however, forced us on a drive up the coast to charge the Volta, and we're glad we did that drive.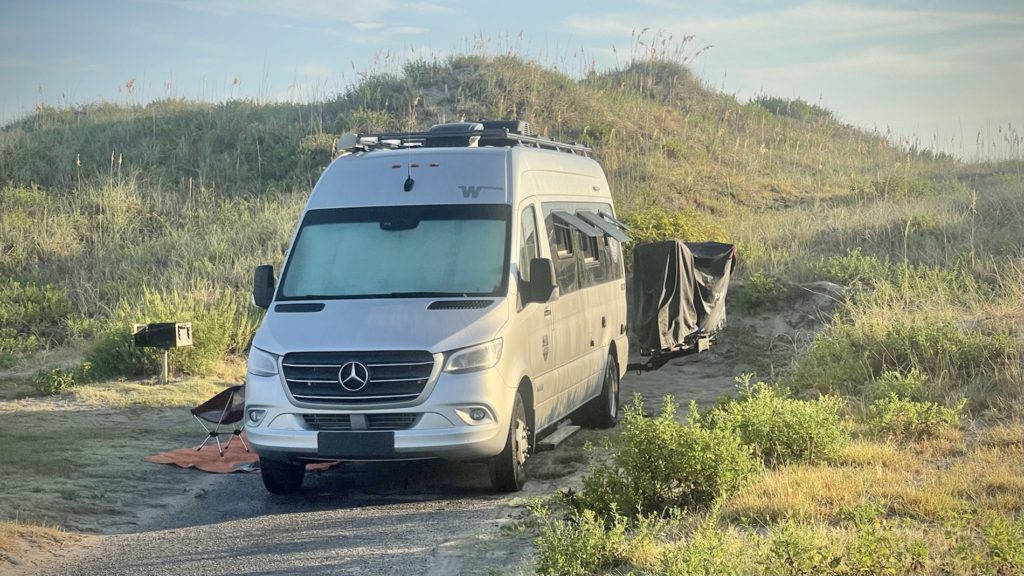 During our drive, we discovered yet another lighthouse, Currituck, and the town of Corolla, where we picked up bay scallops and cooked them in the Boldt.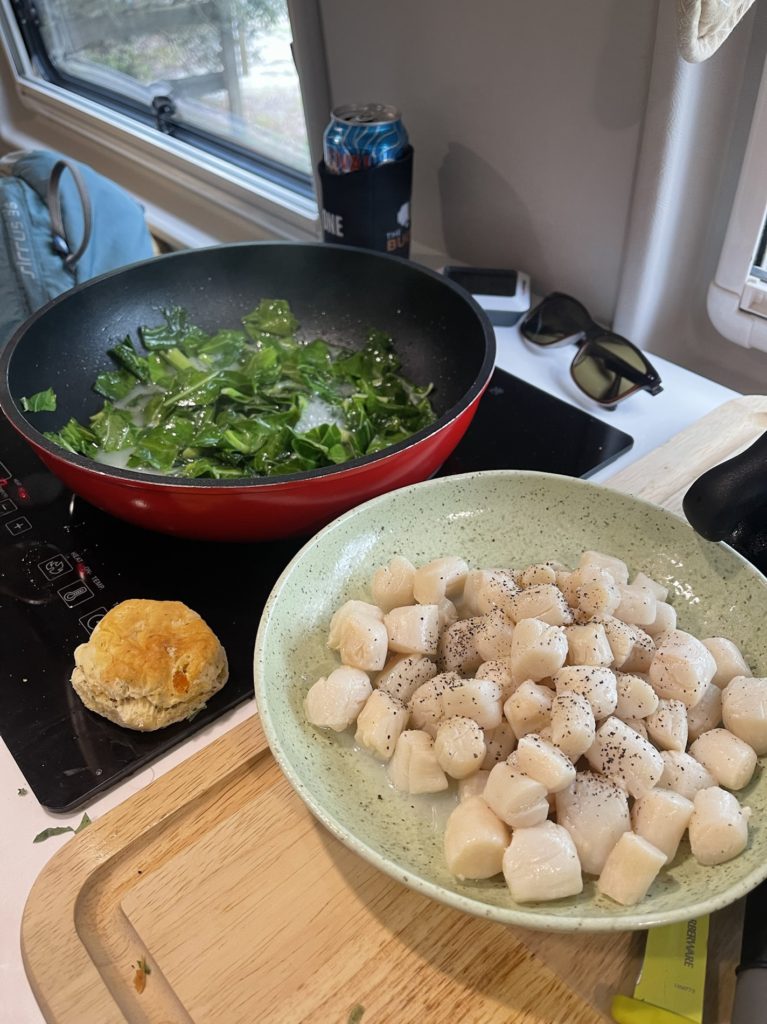 Beyond Corolla, NC Highway 12 turns to sand for 13 miles to Carova, a village only accessible by four-wheel-drive vehicle, boat or aircraft.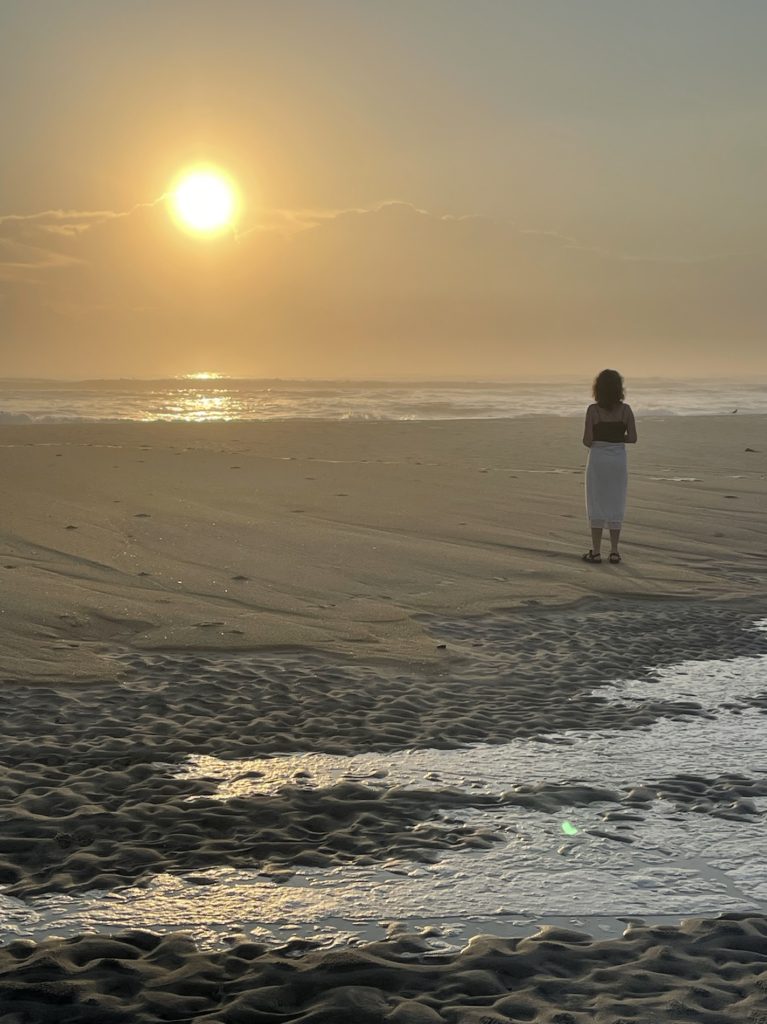 We spent two nights at Oregon Inlet before heading to Manteo. Wikipedia tells us that Manteo was founded and settled in the 1580s. The area was the site of the first English child born in America, Virginia Dare, as well as one of the first English settlements in the New World.
We cycled about five miles from the charming waterfront town to the Elizabethan Gardens, beautiful but we felt it was not worth the $20 entry fee ($10 each). Manteo, however, was a good stop, though only about 10 miles from Oregon Inlet. The town served as an "oh, we don't want to leave the Outer Banks" soft exit to a wonderful week along our beautiful coast.
No trip is perfect, but this one was as close as it gets for us. Back home in Asheville now, we're still thinking back to those beautiful days along the fringes of our state.